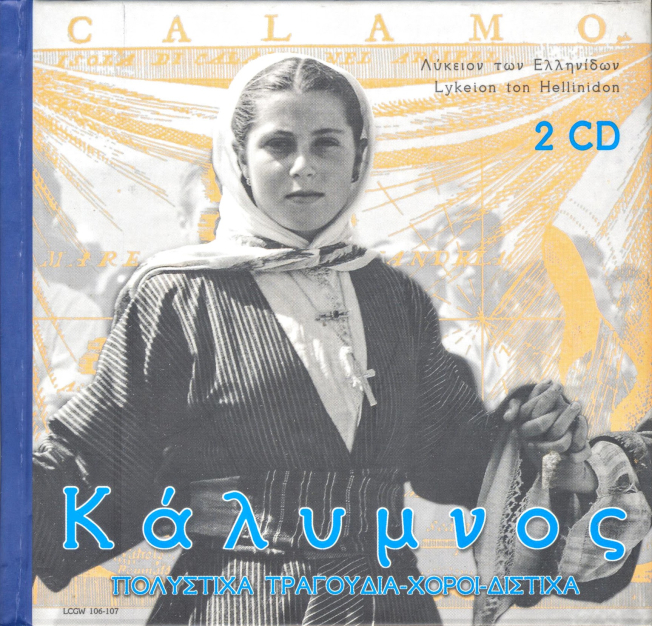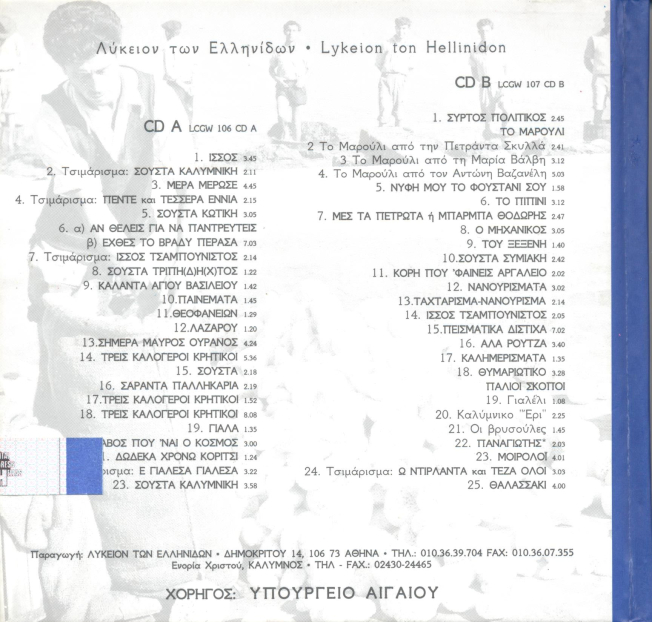 Folk Music, Dances - Songs, Kalymnos: Songs - Dances - Couplets
2 CDs & Printed edition
In October 1981, the Lyceum Club of Greek Women (Lykeion ton Hellinidon) of Athens, in collaboration with its Kalymnos annex, carried out a project that was historic at the time: the recording of the island's tunes, dances and songs.
In 1982, a part of this material went into an album containing two long-playing records (LCGW 106 and 107), produced in a limited number of copies.
The Lyceum Club of Greek Women was thus the first in the field of Greek discography to dare to produce and publish a record devoted entirely to the musical tradition and the dances of a single small geographic area, in this instance the island of Kalymnos. Songs from the entire cycle of life: lullabies, wedding songs, carols, but also the heartrending moiroloi, the Kalymnian lament, were included in this first edition. Later, the repertoire of Greek recordings would be enriched by a number of exceptionally fine productions on the same themes from various regions of the country; however the fist Kalymnos record still remains worthy of notice.
Today these two vinyl disks have been sold out and the Lyceum Club of Greek Women has felt it necessary to proceed to a new production using the new digital technology (CD) and including archival material from that first recording.
The present production has been realised in collaboration with the Lyceum Club of Kalymnos and thanks to the kind sponsorship of the Ministry of the Aegean, to which we express our particular appreciation.
March 2001
Lefteris Drandakis
Director and Producer
Texts by
Lefteris Drandakis, Themelina Kapella, Popi Mavrou
Content
CD Α - SONGS-DANCES (New edition of LP LCGW 106)
1. Issos (Instrumental) 3.45
2. Sousta Kalymniki 2.11
3. Mera Merosse (Day has dawned) (Wedding song) 4.45
4. Tsimarisma: Pende kai tessera ennia - Dirla Dirladada (Vocal) 2.15
5. Sousta Kotiki (Instrumental) 3.05
6. a) An thelis yia na pandreftis (Vocal), b) Ekthes to vrady perassa* (Vocal) 7.03
7. Issos Tsambounistos (Instrumental) 2.14
8. Sousta Tripi(dh)i(kh)tos (Instrumental) 1.22
Carols
9. a) St. Basil's (New Year's) 1.42
10. b) Praises (after the carols of St. Basil)* 1.45
11. c) Carols of Epiphany 1.29
12. d) Carols of Lazarus Day 1.20
13. Simera mavros ouranos (Good Friday lament)* 4.24
14. Tris kalogheroi Kritikoi (Vocal) 5.36
15. Sousta (Instrumental) 2.18
16. Saranda pallikaria (Vocal) 2.19
17. Tris kalogheroi Kritikoi (Instrumental)* 1.52
18. Tris kalogheroi Kritikoi (Vocal)* 8.08
19. Yiala (Instrumental) 1.35
20. Palavos pou 'ne o kosmos (Vocal)* 3.00
21. Dodeka chrono koritsi (Vocal)* 1.24
22. Tsimarisma: E yialessa - yialessa* 3.22
23. Sousta Kalymniki* 3.58
Note: Items marked with an asterisk* are new additions 

 
CD B - COUPLETS-DANCES (New edition of LP LCGW 107)
1. Syrtos Politikos (Instrumental) 2.45
To Marouli (Couplets)
2. To Marouli*: Sung by Petranda Skylla 2.41
3. To Marouli*: Sung by Maria Valvi 2.00
4. To Marouli: Sung by Antonis Vazanelis 5.03
5. Nyphi mou to foustani sou* (Couplets) 1.58
6. To pipini (Couplets) 3.12
7. Mes' ta petrota or Barba Thodoris (Couplets) 2.47
8. O michanikos (Instrumental) 3.05
9. Tou xexeni (Couplets) 1.40
10. Sousta Symiaki (Instrumental) 2.42
11. Kori pou 'fenis argalio (Instrumental) 2.02
12. Lullabies 3.02
13. Baby play-song - Lullaby* 2.14
14. Issos tsambounistos (Instrumental) 2.05
15. Teasing couplets 7.02
16. Ala routza (Couplets) 3.45
17. Kalimerismata (Couplets)* 1.35
18. Thymariotikos* (Couplets) 3.32
Old tunes
19. a) Yialeli (Couplets) 1.08
20. b) Kalymniko "Eri" (Couplets) 2.25
21. c) I vryssoules (The springs) (Couplets) 1.45
22. O Panayiotis ("Now come make friends")* (Couplets) 2.03
23. Lament 4.01
24. Tsiamrisma: O Dirlada kai teza oloi* (Couplets) 3.03
25. Thalassaki* (Couplets) 4.00
Note: Items marked with an asterisk* are new additions 
Musicians
Violin: Mikés Tsounias
Lute: Manolis Tsounias
Tsambouna: Y. Vouis
Tsambouna: Y. Nistazos
Lute: Panayiotis Trikoilis
Song: N. Coumoundourou, Y. Vouis, C. Yannikouri, "Kapetan" Pandelis Ghinis, A. Vazanelis, P. Mavrou, P. Pikramenou, M. Vavli, K. Bairamis, P. Skylla, L. Zagorianos, N. Sakeli, M. Tsinaraki, M. Frangini, Th. Koullia, Kalymnian group
Notes / Info
Recorded: October 1981 in an old Kalymnian mansion
Tape Recorder: NAGRA IV STEREO
Recorded by: Yannis Sygletos
Sponsored by: Ministry of the Aegean