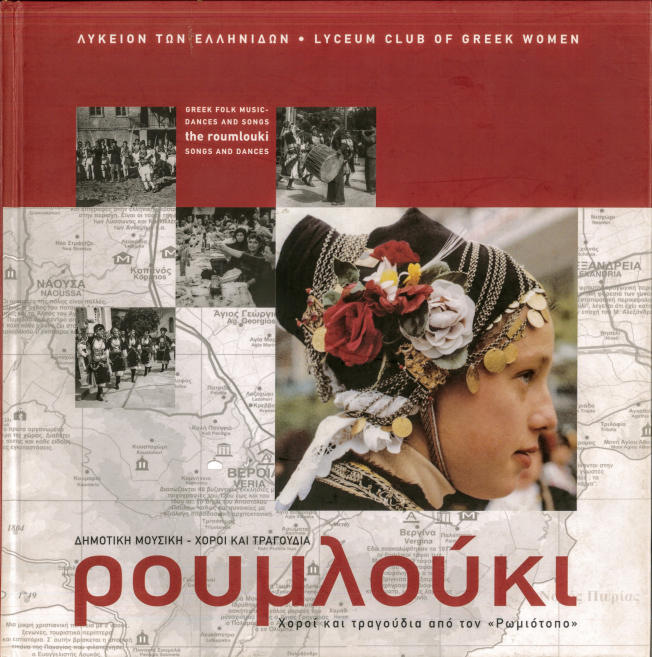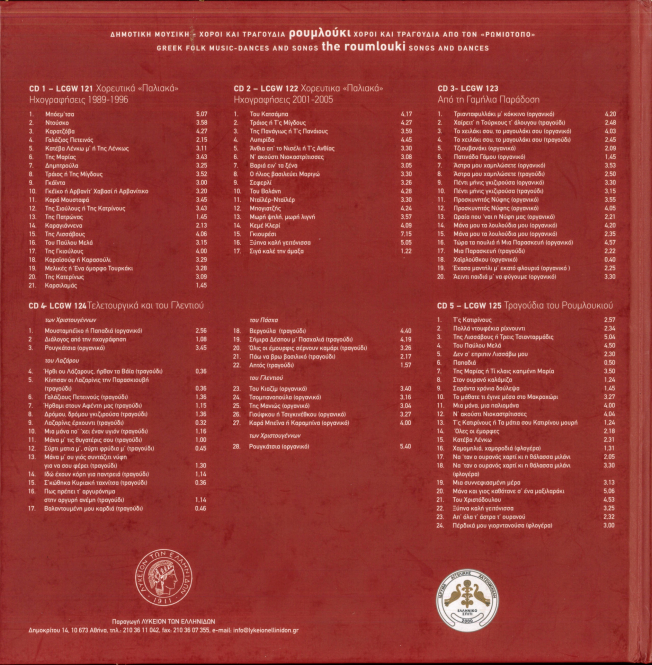 Greek Folk Music - Dances and Songs, The Roumlouki, Songs and Dances
5 CDs & Printed edition
Orders are processed in 3-4 business days from the day they are received. For information on the available shipping and delivering methods for your order, read the
Shipping Methods
.
If you are not completely satisfied with your order, we will refund you provided that the product will be returned in its original condition and within 14 days. For more information read the
Return Policy
.
The Roumlouki (Rumland - Land of the Greeks) is a region that presents great interest from the point of view of folk dance and music.
The first efforts of the Lyceum Club of Greek Women (Lykeion ton Hellenidon) to record the dances of the Roumlouki -mainly for its own use- were initiated towards the end of the 1980s.
These efforts were based principally on the collaboration with Thomas Patmos (zournas player), Giorgos Zapheriou (zournás player) and Giorgos Panayiotopoulos (daouli), who possessed a thorough knowledge of the tunes and rhythms of the region and who were acknowledged by the local community as masters in the field.
After the death of its prized collaborators and friends, Giorgos Zapheriou and Giorgos Panayiotopoulos, the Lykeion ton Hellenidon continued its efforts to produce a disk containing the material it had already recorded, and to collect more.
The project went through several phases -not all of them favourable- so that it was only in 2005 that, with the help of our great friend, Thomas Patmos and his new collaborators, we managed to gather together the major part of the instrumental melodies played in the villages of the Roumlouki. At the same time, thanks to the valuable assistance of Achilleas Tsiaras, we were able to record songs from Episkopi, Verria, and Makrokhori, Imathia, Macedonia.
With the present disk, although fully aware of the breadth, bulk and importance of the material that still remains to be recorded, we offer to the wider public the recordings that have already been made, hoping that they will be useful to all those who study, cherish and believe in the worth of Greek folk music.
Athens, March 2007
Lefteris Drandakis
Production Director
Texts by
Lefteris Drandakis, Ioannis D. Moschopoulos, Hara Deliyanni, Achilleas Tsiaras
Content
CD 1 – LCGW 121 ''Paliaka'' Dance Tunes. Recordings 1989-1996
1. Boimitsa 5.07
2. Dushko 3.58
3. Karatzova 4.27
4. Ghalazios Petinós 2.15
5. Katéva Lenko m', tis Lenkos 3.11
6. Tis Marias 3.43
7. Dimitroula 3.25
8. Traios, or tis Migdous 3.52
9. Gaida 3.00
10. Geiko, or Arvanit havasi, or Arvanitiko 3.20
11. Kará Mustafá 3.45
12. Tis Sioulous, or tis Katerinous 3.43
13. Tis Patronas 1.45
14. Karayiannena 2.13
15. Tis Lissavous 4.06
16. Tou Pavlou Melá 3.15
17. Tis Gioulous 4.00
18. Karaisouf, or Karasouli 3.29
19. Melikés, or Ena omorfo Tourkaki 3.28
20. Tis Katerinos 3.09
21. Karsilamás 1.45
CD 2 – LCGW 122: ''Paliaka'' Dance tunes. Recordings 2001-2005
1. Tou Katsamba 4.17
2. Traios, or T's Migdous 4.27
3. Tis Panayios, or T's Panaious 3.59
4. Lypirida 4.45
5. Anthia ap' to Nisseli, or T's Anthias 3.30
6. N' akousti Niokastritissis 3.08
7. Variá in ta ksena 3.05
8. O ilios vassilevi Marighó 3.30
9. Seferli 3.26
10. Tou Volani 4.28
11. Dailer-Dailer 3.30
12. Boyiatzis 4.24
13. Mori psili, mori lighni 3.57
14. Kemekleri 4.09
15. Giouressi 7.15
16. Ksipna kali ghitonissa 5.05
17. Sighá kalé tin ámaxa 1.22
CD 3 – LCGW 123: Dance tunes and songs from the traditional wedding ritual
1. Triandafillaki m' kókkinou (instrumental) 4.20
2. Khéret' i Tourkous t' áloughou (vocal) 2.48
3. To khilaki sou, to maghoulaki sou (instrumental) 4.03
4. To khilaki sou, to maghoulaki sou (vocal) 2.45
5. Tziouvanaki (instrumental) 2.09
6. Wedding patinada (instrumental) 1.45
7. Astra mou hamilóssete (instrumental) 3.53
8. Astra mou hamilóssete (vocal) 2.50
9. Pendi minis ghizirousa (instrumental) 3.30
10. Pendi minis ghizirousa (vocal) 3.15
11. Proskinitós of the Bride (instrumental) 3.55
12. Proskinitós of the Bride (vocal) 4.05
13. Oréa pou ne I neefi mas (instrumental) 2.21
14. Mana mou ta louloudhia mou (instrumental) 4.20
15. Mana mou ta louloudhia mou (instrumental) 2.35
16. Tóra ta pouliá, or Miá Paraskevi (instrumental) 4.57
17. Miá Paraskevi (vocal) 2.22
18. Khairlouthkou (instrumental) 0.40
19. Ekhasa mandili m' ekató flouriá (instrumental) 2.25
20. Aidi pedhiá m' na fighoume (instrumental) 3.30
CD 4 – LCGW 124: Tunes ceremonial and festive
Christmas tunes
1. Moustabeiko or Papadiá (instrumental) 2.56
2. Dialogue during the recording 1.08
3. Rougatsia (instrumental) 3.45
Lazarus' day carols
4. Irthi ou Lazarus (vocal) 0.36
5. Kinisan i Lazarinis tin Paraskiouvi (vocal) 0.36
6. Ghalazios petinós (vocal) 1.36
7. Irthami stoun afendi mas (vocal) 1.15
8. Dromou, dromou ghizirousa (vocal) 1.36
9. Lazarinis erkhoundi (vocal) 0.32
10. Miá mana po' khi enan ighión (vocal) 1.16
11. Mana m' tis thighateris sou (vocal)1.00
12. Sirti matia m' sirti fridhia m' (vocal) 0.45
13. Mana m' o ghiós sindaziti nifi ghia na sou feri (vocal) 1.30
14. Idhó ekhoun kori ghia pandriá (vocal) 1.14
15. Skóthika Kiriaki takhnitsa (vocal) 0.36
16. Pós prepi t' arghyrónima stin arghiri anémi (vocal) 1.14
17. Valandoumeni mou kardhiá (vocal) 0.46
Easter songs and dances
18. Verghoula 4.40
19. Simira Dhespou m' Paskhaliá (vocal) 4.19
20. Olis I emourfis sernoun kamari (vocal) 3.26
21. Pao na vro vassilikó (vocal) 2.17
22. Aitós (vocal) 1.57
Tunes for dancing and merrymaking
23. Tou Kiazim (instrumental) 3.40
24. Tsobanopoula (instrumental) 3.16
25. Tis Maniós (instrumental) 3.04
26. Yioufkou, or Tsiginethkou (instrumental) 3.27
27. Kará Beina or Karabina (instrumental) 4.00
Christmastide
28. Rougátsia (instrumental) 5.40
CD 5 – LCGW 125: Songs of the Roumlouki
1. T's Katerinous 2.57
2. Pollá doufékia rikhnoundi 2.34
3. Tis Lissavous, or tris Chadarmadhes 5.04
4. Tou Pavlou Melá 4.50
5. Dhen s' epripin Lissavou mou 2.30
6. Papadhiá 0.50
7. Tis Marias, or ti klés kaimeni Maria 3.50
8. Ston ouranó kalámiza 1.24
9. Saranda khronia doúlepsa 1.45
10. To mathate ti éghine messa sto Makrokhori 3.27
11. Miá mana, miá poliomana 4.00
12. N' akousti Niokastritissis 4.04
13. Tis Katerinous, or ta matia sou Katirinou mouri 1.24
14. Oles I emorfes 2.18
15. Katéva Lenko 2.31
16. Kamomiliá, khamorodhiá (shepherd's pipe) 1.31
17. Na' tan o ouranós kharti ki I thalassa miláni 2.05
18. Na' tan o ouranós kharti ki thalassa miláni (shepherd's pipe) 3.30
19. Mia sinnefiasmeni mera 3.13
20. Mana ki ghiós kathótane s' ena maxilaraki 5.06
21. Tou Christodoulou 4.53
22. Ksipna kali ghitónissa 3.25
23. Ap' ola t' astra t' ouranou 2.32
24. Perdhika mou yiordanoussa (shepherd's pipe) 3.00
Musicians
CD 1 – LCGW 121
[1-4]
[5-13 & 21]
Musicians:
Thomas Patmos, zournas
Giorgos Zafeiriou, zournas
Giorgos Panagiotopoulos, daouli
[14-20]
Recording 1996, Studio Katsoulis, Athens.
Musicians:
Thomas Patmos, zournas
Konstantinos Karapiperis, zournas
Dimitris Mamoutis, daouli

CD 2 – LCGW 122
[1-7 & 16-17]
Musicians:
Thomas Patmos, zournas
Konstantinos Karapiperis, zournas
Dimitris Mamoutis, daouli
[8-15]
Musicians:
Thomas Patmos, zournas
Giorgos Tsipisis, zournas
Dimitris Mamoutis, daouli

CD 3 – LCGW 123
Musicians:
Thomas Patmos, zournas
Giorgos Zafeiriou, zournas
Giorgos Panagiotopoulos, daouli
[7,11,13]
Musicians:
Thomas Patmos, zournas
Konstantinos Karapiperis, zournas
Dimitris Mamoutis, daouli
[1,9,18]
Musicians:
Thomas Patmos, zournas
Konstantinos Karapiperis, zournas
Dimitris Mamoutis, daouli
[3,14,15,16,19,20]
Musicians:
Thomas Patmos, zournas
Giorgos Tsipisis, zournas
Dimitris Mamoutis, daouli

CD 4 – LCGW 124
[20-21]
Musicians:
Thomas Patmos, zournas
Giorgos Tsipisis, zournas
Dimitris Mamoutis, daouli
[26]
Musicians:
Thomas Patmos, zournas
Giorgos Zafeiriou, zournas
Giorgos Panagiotopoulos, daouli
[27]
Musicians:
Thomas Patmos, zournas
Konstantinos Karapiperis, zournas
Dimitris Mamoutis, daouli
Notes / Info
CD 1 – LCGW 121
The recordings were made between 1989 and 1996 and include mostly dancing tunes.
[1-4] The recording was made 22nd September 1989, in Studio ERA, Athens.
[5-13 & 21] The recording was made 17th July 1991, in Studio ERA, Athens.
Recorded by: Giannis Sygletos
Coordination: Giorgos Kotsos, Nancy Harmanta
[14-20]
The recording was made in 1996, in Studio Katsoulis, Athens.
Recorded by: Giannis Sygletos

CD 2 – LCGW 122
The recordings were made between 2001 και 2005 with dances characterised as "paliaka".
[1-7 & 16-17]
The recording was made 29th January 2001, in Studio Polytropon, Thessaloniki.
Recorded by: Giannis Sygletos
[8-15] The recording was made 3rd October 2005, in Studio Polytropon, Thessaloniki.
Recorded by: Martin Ekman and Giannis Sygletos
Coordination: Achilleas Tsiaras
Secretariat: Hara Deliyanni

CD 3 – LCGW 123
[5,6,12] The recording was made 17th July 1991, in Studio ERA, Athens.
Recorded by: Giannis Sygletos
[7,11,13] The recording was made in 1996, in Studio Katsoulis, Athens.
Recorded by: Giannis Sygletos
Coordination: Giorgos Kotsos, Nancy Harmanta
[1,9,18] The recording was made 29th January 2001, in Studio Polytropon, Thessaloniki.
Recorded by: Giannis Sygletos
[3,14,15,16,19,20] The recording was made 3rd October 2005, in Studio Polytropon, Thessaloniki.
Recorded by: Martin Ekman and Giannis Sygletos
Coordination: Achilleas Tsiaras
Secretariat: Hara Deliyanni

CD 4 – LCGW 124
[1-19] The recording was made 20th April 2005, in the church of St Ioannis Prodromos, Makrochori, Imathia.
Recorded by: Giannis Sygletos
Sound assistans: Kostas Gemistos
Coordination: Achilleas Tsiaras
Secretariat: Hara Deliyanni
[20-21] The recording was made 3rd October 2005, in Studio Polytropon, Thessaloniki.
Recorded by: Martin Ekman and Giannis Sygletos
Coordination: Achilleas Tsiaras
Secretariat: Hara Deliyanni
[26] The recording was made 22nd September 1989, in Studio ERA, Athens.
Recorded by: Giannis Sygletos
[27] The recording was made 29th January 2001, in Studio Polytropon, Thessaloniki.
Recorded by: Giannis Sygletos

CD 5 – LCGW 125
The recording was made 20th April 2005, in the church of St Ioannis Prodromos, Makrochori, Imathia.
Recorded by: Giannis Sygletos
Sound assistans: Kostas Gemistos
Coordination: Achilleas Tsiaras
Secretariat: Hara Deliyanni

Collection and electronic processing of auditive material: Stavros Stavropoulos, Hara Deliyanni